Napoletana Pizzeria in Mountain View brings the colorful, fragrant, and authentic Neapolitan pizza to San Francisco peninsula! A place where locals can gather and relax, over wine and quality adorned pizza. The pizzeria has been certified with the number 426 by AVPN association in Napoli, Italy.
What Sets Our Pizza Above the Rest…
Simplicity. Four key ingredients lie in its perfection: flour, water, salt and yeast. The blending of these ingredients lays the foundation for this exquisite pizza. A wood-fired oven with temperatures reaching 900 degrees Fahrenheit, the Neapolitan pizza is cooked to perfection in 60 to 90 seconds.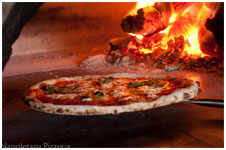 What's on the Menu…
Napoletana Pizzeria is a full service Italian restaurant serving more than just pizza. Traditional dishes, including appetizers, soups, salads, pastas, desserts and an impressive cache of wines are available daily, along with numerous varieties of pizza.
Buon appetito!